Moderators: Barrett Forum, Samurai, Barrett
Member
Posts: 261
Joined: Tue 21 Apr, 2009 5:02 pm
Cool but I thought it was about mouse guns.. Ur maybe it is... anyway keep them away from Shadow's cat or they may become cat guns... At any rate... my mouse gun is a .22 caliber ... yep your right a WHAT?.. Let me explain.. You pull the bullet from a 22lr, then dump out the powder... then put about a quarter of the powder back in... next pres wax into the casing about 3/16 thick put some bird shot in it... melt a bit of wax over the top and let cool... Works really well, and is very quiet... Oh you can at about fifteen feet just use wax... I find the red candles wax is best... OH yeh you must put the hard wax in first then fill the rest with melted wax.. otherwise you end up with a dud... Enjoy... Darrell
Darrell Shirts wrote:Cool but I thought it was about mouse guns.. Ur maybe it is... anyway keep them away from Shadow's cat or they may become cat guns... At any rate... my mouse gun is a .22 caliber ... yep your right a WHAT?.. Let me explain.. You pull the bullet from a 22lr, then dump out the powder... then put about a quarter of the powder back in... next pres wax into the casing about 3/16 thick put some bird shot in it... melt a bit of wax over the top and let cool... Works really well, and is very quiet... Oh you can at about fifteen feet just use wax... I find the red candles wax is best... OH yeh you must put the hard wax in first then fill the rest with melted wax.. otherwise you end up with a dud... Enjoy... Darrell
If it's not a .308 or greater (or 6.8-just for you DS) well then it's a mouse gun. You never know when you're gonna confront a Texas mouse. For common insect removal I dig the Aguilla Colibri, primed only .22 short, or SRT integrally suppressed Rug MKIII with CCI Green Tag or mini-max. Super stealthy
Member
Posts: 261
Joined: Tue 21 Apr, 2009 5:02 pm
In the kitchen.. Winters are long here... cool but I don't have to hunt the mice any more. my cat does it for me... Anyway I vie to the experts. This old man is always learning.. Ain't life grand... Darrell
Last edited by
Darrell Shirts
on Fri 26 Jun, 2009 4:52 pm, edited 1 time in total.
Member
Posts: 261
Joined: Tue 21 Apr, 2009 5:02 pm
Oh yeah. How big is a TEXAS mouse?
Continuing Member
Posts: 1953
Joined: Mon 20 Apr, 2009 1:19 pm
NRA Member: yes
Military: yes
Location: not at work
Those are some beauties even if they are "mouseguns" i thought they were EBRS either way they are awsome.
BARRETT 82A1 SEMI AUTOMATIC WITH LEUPOLD MARK 4 8.2-25X50MM WITH BORS
BUSHMASTER M-4
RUGER MINI-14 WITH LEUPOLD 3-9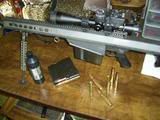 WASR AK-47
CHINESE SKS
2 XD-45
BERETTA PX4 STORM 45
SPRINGFIELD ARMORY 1911 A1
SIG SAUER 1911
PARA ORDINANCE WARTHOG 45
SMITH & WESSON 500 MAG
IMI DERSERT EAGLE 50ae
Board Veteran
Posts: 797
Joined: Thu 09 Apr, 2009 5:05 pm
Favorite Firearm: 82a1 allways will be
Location: indiana..i need a 1000 yard shot please!!!!!
6.8 just for me
geee thanks haha cock fag thats awsome lol
hope for the best prepare for the worst
Very nice collection!
Member
Posts: 144
Joined: Tue 28 Apr, 2009 8:20 am
Just some of the family huh?!, mighty nice family you have there, I'm very interested in meeting the rest
Poster
Posts: 40
Joined: Tue 26 May, 2009 1:32 am
Great collection. A sure way to keep vermin at bay. Tortoise
Contributing Member
Posts: 365
Joined: Wed 22 Apr, 2009 8:39 pm
NRA Member: yes
Carry Permit: yes
Location: pa
heck of a collection albeit only part. congrats on that.
darrell cool info on the 22 shells. i just prefer to use the 12 gauge. yea it might b overkill but i refuse to lose and let one of them live to laugh at me
---
Who is online
Users browsing this forum: No registered users and 0 guests