Okay, so I wanted some better optics for my M99 and I saved up for a Nightforce but I opted for something else. I have also been craving a compact lightweight .45 ACP for carry. So instead of buying the NF, I got a Sightron scope and a Kimber .45!!!
After a lot of research and reading of reviews of scopes, I opted for the Sightron SIII 6-24X50 Mil Dot scope. I have read positive reviews regarding this scope as well as other positive reviews of other Sightron scopes.
Sightron SIII 6-24X50 LRMD
The scope cost me $796.88 shipped (from 4scopes.com), plus the local Sportmans Warehouse was having a "no tax" sale and I picked up my Kimber Pro Carry II for $799.99, saving me $70 on tax.
Here is my review and report of my Box Test that I conducted on my new scope:
After removing my Super Sniper 10X42 scope off my M99, I reused the Barrett X-High rings to mount the Sightron. Using a machined cylinder and feeler gauge leafs for shims underneath the scope and against the rail (I hope the bottom of the scope is exactly perpendicular to the reticle), and using a bubble level referencing the top of rifle and top of scope turret, I mounted and torqued all bolts and nuts per the Barrett ring mounting instructions. The reticle appears level as mounted.
Using a laser that is in my handy bubble level, I shot the laser through the bore at point on the wall approx 25 feet away, and looking through the scope, the laser dot and reticle were spot on so I did not adjust it.
Sightron information that came with the scope states that the Reticle is set at Optimum Zero when it leaves the factory. (Note: The Barrett M99 has 27 MOA slope built into the rail)
After mounting completed, I annotated in my M99 Data log the current setting with respect to the lines showing on the elevation as well as the azimuth turrets. There are 3 lines visible below the elevation adjustment turret and 4 lines visible on the azimuth turret which are number ZERO, 1, 2 and 3 respectively.
I then proceeded to adjust the elevation turret all the way down and then all the way up, the results are as follows:
Down = 140 1/4 minute clicks or 35 MOA (Note: When the turrets hit the stops, it is solid, not mushy like the Super Sniper)
Up = 258 1/4 min clicks or 64.5 MOA
Total elevation adjustment stop-to-stop - 99.5 MOA (Sightron claims 100 MOA elevation adjustment)
Left = 197 1/4 min clicks or 49.25 MOA to a solid stop
Right = 199 1/4 min clicks or 49.75 MOA to a solid stop
Total azimuth adjustment stop-to-stop - 99 MOA (again Sightron claims 100 MOA of adjustment)
I am not going to squawk about the not being able to get full adjustment as claimed. Has anyone else evaluated this on their scopes?
I then returned the turrets back to the factory Zero.
Next I conducted a side-by-side comparison of the Sightron (set at 10X) and the Super Sniper 10X42.
Or should I say there is no comparison! I know others rave about how good the Super Sniper scopes are, and I would agree with them with respect to what you pay for them.
Looking out my front door at a cellular antenna tower 555 yds away (distanced using Mil-Dots) i observed the following:
In my opinion the Sightron glass is amazing. The clarity, sharpness, contrast, and brightness are excellent, whereas the Super Sniper appeared somewhat hazy (similar to what you see when you are flying low level on and overcast day with a slight haze hanging over the Valley of the Sun.
I also did a side-by-side against my Nikon Prostaff 20-60X82 spotting scope. With both set at 20X, again the Sightron glass is amazing. The Nikon glass is nice, but now I am a little disappointed in my spotting scope. I guess I will keep it though as I mostly use it for High Power Service Rifle Comps. I can see the spotters just fine at 500 yds.
Overall initial evaluation of the optics is excellent in my opinion.
Next I headed for the Range.
WX conditions, 6000 overcast, Temp 59 degrees F, with zero wind (unknown humidity)
Using the Barrett bipod and monopod at the butt-stock.. This provides for a very stable platform shooting off a concrete bench.
Ammo used - Barrett M33 factory 661 ball. Barrett claims 2750 fps @ muzzle, I assume this is from a 32" bbl, mine is a 29" barrel. (Note: This ammo for me, is at best, 2 MOA from 5 shot groups in the past) I know 3 or 5 shot groups don't tell you much (I like to use 10 on other rifles) but shooting the big Fifty, I don't have the luxury of evaluating 10 shot groups.
1st shot at 50 yds was Zero elev and 3" left. I adjusted azimuth turret 2 MOA right.
2nd shot was 1" high and 1" left. Adj 1 MOA right
3rd shot 0 elev and 1" left. Adj 1 more MOA right
Moved target to 100 yds. Wind now blowing form 5 Oclock at approx 5 kts (wind possibly not a factor here as there is a 10 foot high barrier immediately to my right that runs the length of the 100 yds.)
1st shot 4" high and .25" left (No adjustment)
2nd shot 2.3" high and .75" right (no adjustment)
3rd shot 1.75" high and .4" right (adjusted elevation turret 2 MOA down)
4th shot .4" high and .4" left (no adjustment)
5th shot 1.25" high and .4" right (adj .5 MOA down)
Note: Just a reminder, this is factory ball ammo and not very accurate.
Next I loosened the turret caps and set them to Zero and shot a 3 shot group. (I know, I know, 3 shot groups don't tell you much, but work with me here, Okay!)
3 shot group prior to box test:
This is the group on the Box Test pic (upper left orange center)
1st - .75" high and .1" left
2nd - 1.25" high and 1.25" right
3rd - 0.8" low and .25" right
2.3" max spread
BOX TEST: Scope set at 12X (Note: Between each shot, I was adjusting from the 12X to 24X to view shots)
1st adjustment to turrets
4 MOA down and 4 MOA left
Using the lower left Orange as bullseye for all shots (see pic) I fired the first shot:
1st shot (lower left black) .9" high and .25" left (from theoretical zero of where shots should have impacted)
Next adjusted elev turret 21 MOA up (21.99") and fired the next shot.
2nd shot - .6" high and .6" and .6" left (from where it should be)
Next adj 20 MOA right (20.94")
3rd shot - Zero on elev and .4" left
Next adj 21 MOA down
4th shot - 1.25" down and 1.6" right
Note: The next 4 shots were using 24X and the wind had changed to 9 oclock at approx 5 kts
next adj 20 MOA left
5th shot - 1" high and .6" left (right next to the 1st shot)
Next adj back up 21 MOA
6th shot - .75" high and .75" right
Next adj 20 MOA right
7th shot - .25" low and 1.25" right
Next adj 21 MOA down
8th shot - .5" high and .75" right
Finally the scope turrets were adjusted back to ZERO and I fired 4 shots at the lower left orange bullseye that I used as aiming point for all shots.
See pic: Max spread on 4 shot final group 2.7" or 2.6 MOA (not exactly the best ammo for accuracy, but of course it could be me, or maybe it is the hell-a-shish heavy long creepy trigger pull of the Barrett M99?)
That was all the Fifty ammo that I took to the range or I would have put more in the group.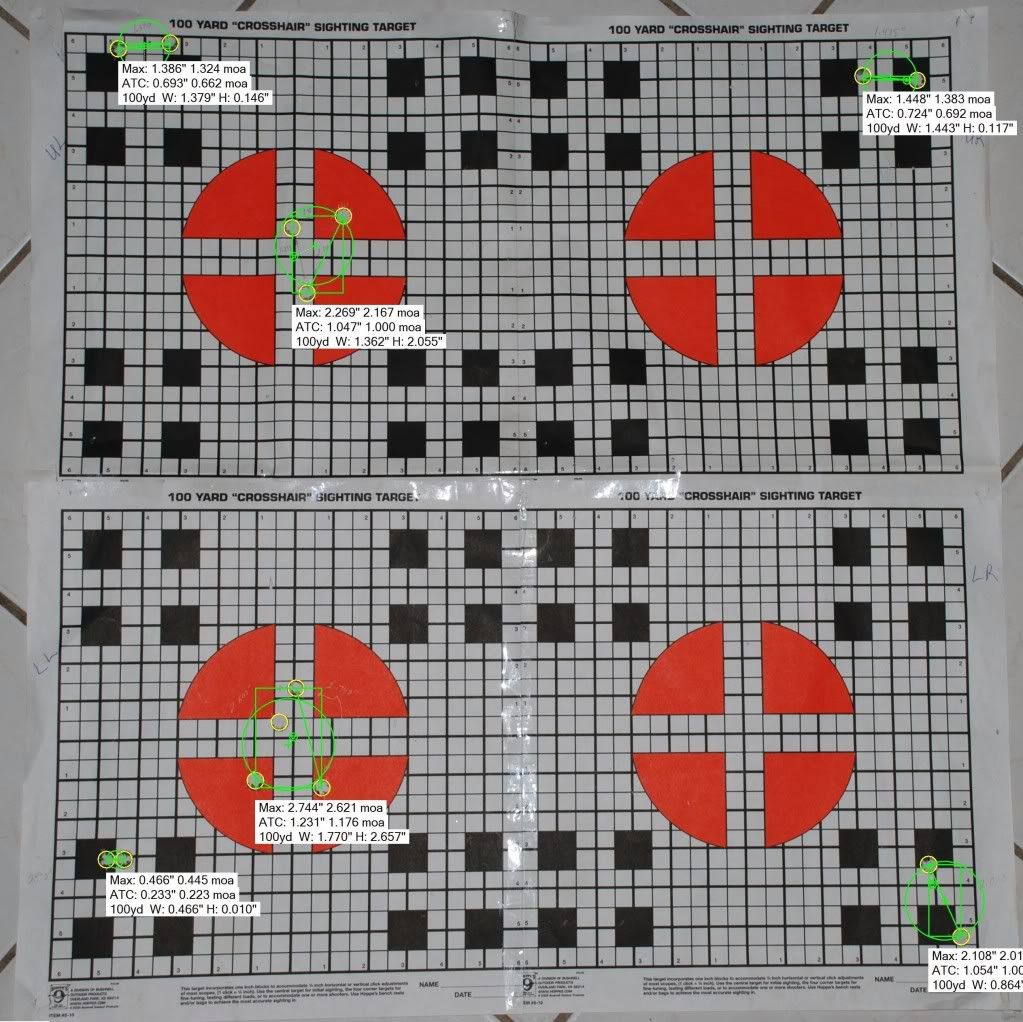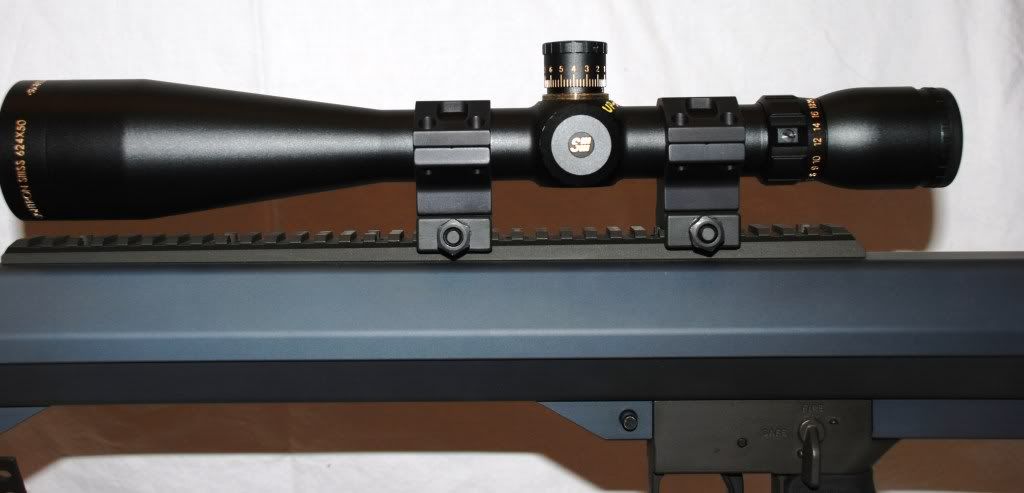 And the other half of my NightForce scope: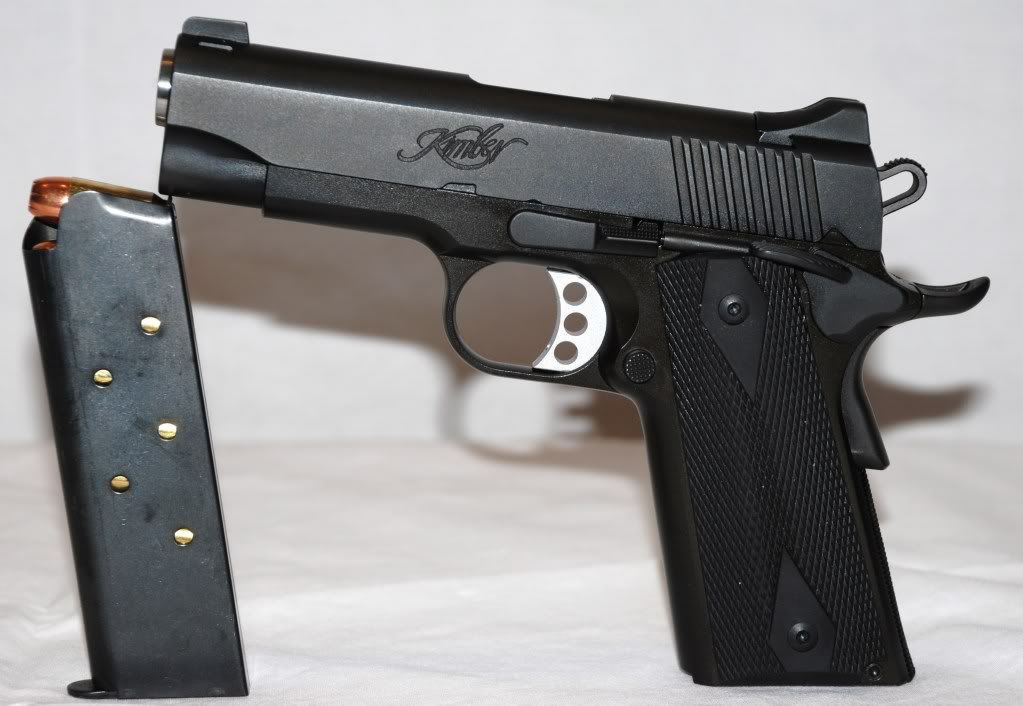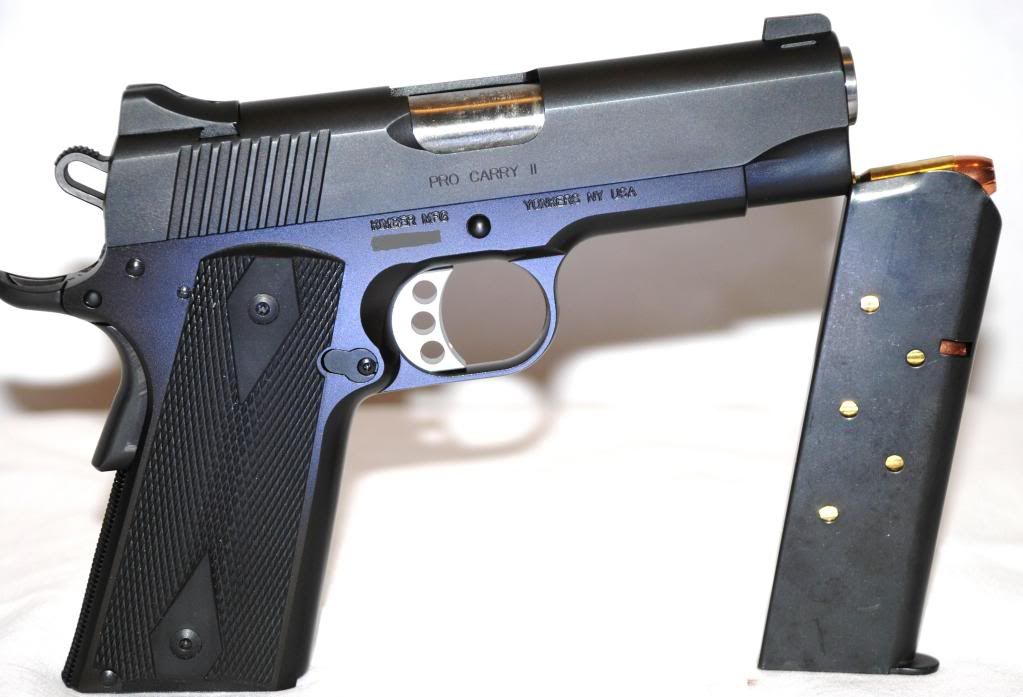 There was another Gentleman at the range using the bench next to me that had a Bushmaster BA50 with a Nightforce 5.5-22X50 scope with BORS on it. I let him shoot my 99 and he let me shoot his BA50.
So I got to do a side-by-side comparison of my new Sightron and the Nightforce. The NF had the mil-dot reticle. I have to say, I love the NF mil-dot reticle with the circles and the little dot in the center of each mil dot. Anyway, on a scale of 1 to 10 and the NF being a 10 for clarity, sharpness, brightness, and contrast of objects, I would have to give my new Sightron only about a 9. To me and my 46 year old eyes, the NF has a slight edge overall in the optics compared to the Sightron. I know some of you may question this, but this is just my personal observation of having the opportunity to evaluate both scopes under the same conditions.
My Sightron did come with a sunshade and I installed it at one point while shooting but given the overcast conditions, it appeared to me that this decreased the clarity and brightness slightly, so much so that I took it back off. I normally see people at the range and they always have their sunshades on the scopes. While this looks cool, in my opinion, it may not always be the best.
Finally Pros and Cons (or likes and dislikes)
Pros:
Excellent optics for the money
There is a raised portion at the 12X power adj ring so I don't have to come up off the scope to adjust from 24X to 12X This could be used with a little mental math (divide by 2) when using mil dots for ranging at 12X (mil dots are supposed to be accurate at 24X but according to the Sightron tables, at 12X one MIL is 7.2" or double the 3.6 at 24X at 100 yds)
Excellent optics for the money
Cons:
Although the turrets have a positive click feel and are also slightly audible, they have a very small but noticeable hysteresis in them when turning them back and forth.
There are no UP or R markings on the scope body, You have to look at the tops of the turrets (I love the marking on the NF) I made my own markings with a fine point paint pen, crude but it works for me!
Turret caps. While some may view them as useful in protecting the turrets, you have to admit, you lose that "cool" factor. Not to mention that you have to take them off when you are going to shoot varying ranges. (Thats just me!)
It isn't a true "Tactical" scope.
I am not going to get into the whole FFP vs SFP argument, it is what it is.
Overall I am extremely pleased with my new scope. For the money, I couldn't ask for better glass.
The small box test shows that it has a repeatable ZERO (as close as I can tell using ball ammo)
Time will tell if it holds up to the recoil of the Fifty Cal
I don't know how it would be at the extremes of its adjustment, maybe I will conduct another in the future to see how well it does at the limits of the adjustments.
I will have my Hornady Fifty press set up shortly and I am going to work up a load for the 750 AMAX's and I will do this test again with the more accurate ammo. Wish the Barrett had a better trigger!
My next purchase will be a Sako TRG-42 in .338 Lapua, maybe I will have to get an NF or other afterall!
Pavlos