Moderators: Barrett Forum, Samurai, Barrett
Barrett M99 Gun Kit with Bushnell Elite 3500 6-24 x 40 scope. Less than 50 rounds shot. Located in Austin Texas.Sold
Last edited by
desmocat
on Sun 20 Dec, 2009 6:32 pm, edited 1 time in total.
Continuing Member
Posts: 1953
Joined: Mon 20 Apr, 2009 1:19 pm
NRA Member: yes
Military: yes
Location: not at work
Wish i had the money for it but sadly i do not good luck i'm sure it will sell fast.
BARRETT 82A1 SEMI AUTOMATIC WITH LEUPOLD MARK 4 8.2-25X50MM WITH BORS
BUSHMASTER M-4
RUGER MINI-14 WITH LEUPOLD 3-9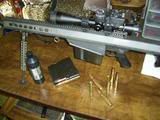 WASR AK-47
CHINESE SKS
2 XD-45
BERETTA PX4 STORM 45
SPRINGFIELD ARMORY 1911 A1
SIG SAUER 1911
PARA ORDINANCE WARTHOG 45
SMITH & WESSON 500 MAG
IMI DERSERT EAGLE 50ae
Thats what I started with a very good starter kit and the price with the ammo is good.
---
Return to "Community For Sale Listings"
Who is online
Users browsing this forum: No registered users and 0 guests