What up crew. RayDog here I've had a MRAD for a few weeks now. So far very very pleased. Scored some good center hits at 1950 yards last week shooting a 300 Scenar at 2750. Pull of some really nice hits on a small target at almost 900 yards. Maybe we can get Will to jump in here. His was shooting pretty dam good also.
Anyway this one is sporting one of the contract scopes from USO for PSR. I know S&B got the contract but I'm a USO guy. This is my first Mil/Mil scope. I'm a MOA guy and usually shoot a 1/2 MOA EREK with a CMG reticle( Best reticle ever). This is a 5-25, 34mm tube and 58 objective. Has a Mil Erek knob and a GAP Mil Reticle. The glass is awesome and the knobs are tracking perfect as they should. I'm getting use to the reticle. Load is 92 of Retumbo lit via a 215M pushing a 300 Scenar from the Lapua case at 2750 10 feet from the end of my Thunder Beast 338BA suppressor
http://www.thunderbeastarms.com/products/338ba
and 24.5" tube. 100 yard zero will hold right about .5 MOA. I haven't shoot groups at any other range much so far. I'm not a group guy but more of a first round hit guy. But we do have to test things so I will be shooting and posting groups with this thing.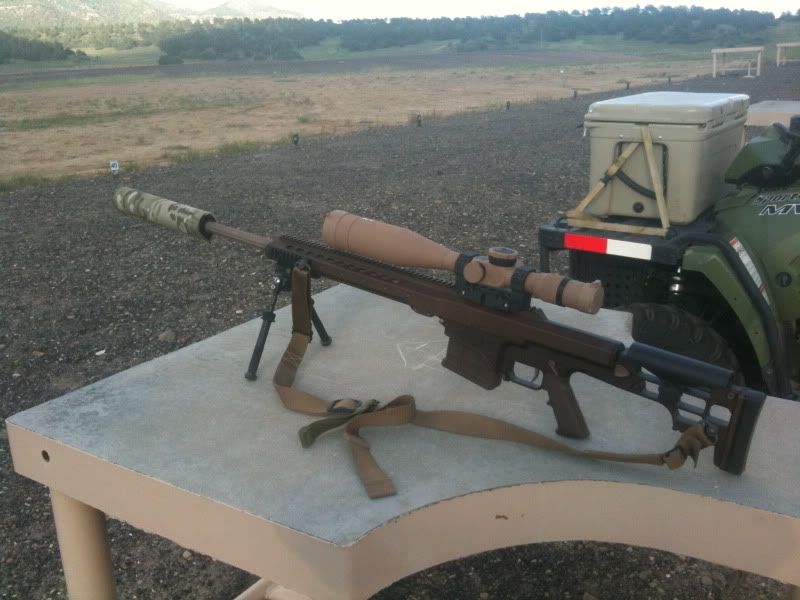 With the hits that I got from 900 to 1950 yards with it this week at the Barrett LR 1 and 2 classes I'm looking forward to printing it at 1,000 and 1500.
This is one badass setup so far. I'm teaching again next week so I'll be sure to bring it along the Oregon class with me for some trigger time.