Moderators: Barrett Forum, Samurai, Barrett
Continuing Member
Posts: 445
Joined: Mon 20 Apr, 2009 9:15 pm
NRA Member: yes
Carry Permit: yes
Favorite Firearm: M82A1
Location: WA
Member
Posts: 218
Joined: Tue 19 Jan, 2010 11:34 am
NRA Member: yes
Favorite Firearm: Whatever is in my hands.
Location: Deep within the man cave.
Awesome videos, thanks for sharing!

No other way to say it... that's a massive collection!
Continuing Member
Posts: 445
Joined: Mon 20 Apr, 2009 9:15 pm
NRA Member: yes
Carry Permit: yes
Favorite Firearm: M82A1
Location: WA
Thanks for checking it out Kevin!!
Continuing Member
Posts: 1953
Joined: Mon 20 Apr, 2009 1:19 pm
NRA Member: yes
Military: yes
Location: not at work
I still want one of those ps-90s or may be two. good stuff Yeadon
BARRETT 82A1 SEMI AUTOMATIC WITH LEUPOLD MARK 4 8.2-25X50MM WITH BORS
BUSHMASTER M-4
RUGER MINI-14 WITH LEUPOLD 3-9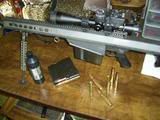 WASR AK-47
CHINESE SKS
2 XD-45
BERETTA PX4 STORM 45
SPRINGFIELD ARMORY 1911 A1
SIG SAUER 1911
PARA ORDINANCE WARTHOG 45
SMITH & WESSON 500 MAG
IMI DERSERT EAGLE 50ae
Member
Posts: 144
Joined: Mon 16 Nov, 2009 6:53 pm
NRA Member: yes
Carry Permit: yes
Favorite Firearm: 98B, 82A1, 1911 TRP
Favorite Ammo: Hornady A-Max & V-Max
Location: Minnesnowta
Yeadon I have to say very nice collection.
I am at the AHHBL (All hell has broken loose) level of acquisition. I feel I have enough Ammo to last about 3 months, enough Mags for about 1 hour on each type of weapon. And starting with the 82A1 at 1800+ yards can work my way back through .338, .308 Precision Snipe Systems, 7.62, 6.8, 5.56 SCAR and Close Quarter Armaments making the transition to my hand held .45, .44, .357, .38 and 9mm. And I can't find my Pocket Knife but I know I have that here somewhere.
Now I have something to aspire to (SHTF)...if I could only have a Suppressor in MN...I have one Full Auto and am working on the next purchase however we are way apart on price. What is a 1942 M2HB Brown Lipe and Chapin worth with all the goodies except the Shipping Crate?
---
Who is online
Users browsing this forum: No registered users and 1 guest