Moderators: Barrett Forum, Samurai, Barrett
Member
Posts: 218
Joined: Tue 19 Jan, 2010 11:34 am
NRA Member: yes
Favorite Firearm: Whatever is in my hands.
Location: Deep within the man cave.
Active Poster
Posts: 99
Joined: Wed 27 May, 2009 1:51 pm
Military: yes
Carry Permit: yes
Favorite Firearm: M-28 Davy Crockett
Location: Texas
Looks like the old girl didn't soil her reputation too badly. A lot of these "reality" shows are just too embarrassing to watch, but the 1k shoot was pretty straightforward. After reviewing the footage, I suspect that the pro had already dialed in the elevation. I didn't note which scope they were using (my bad, but it was after beer:30). Kudos to the guy with the 1st round hit (but he was a military sniper with experience on the 82A1).

I suspect that this episode may generate a few hits on this site and may even sell a few Barretts. Now if we can just get a 107 on "Dancing with the Stars" or Charlie Sheen using it to shoot targets of Chuck Lorre...

FG
Continuing Member
Posts: 820
Joined: Mon 20 Apr, 2009 7:10 pm
NRA Member: yes
Military: yes
Law Enforcement: yes
Carry Permit: yes
Favorite Firearm: Any .50BMG Barrett
Favorite Ammo: API, of course
Location: Not sure, checkin GPS
Fiddler's Green wrote: I didn't note which scope they were using (my bad, but it was after beer:30).
FG
For whatever it's worth - I believe it was a Leupold, but couldn't guess which model.....

Actually, I was hoping they'd shoot with "irons" - that would have been REALLY interesting....

So far, I've watched every show and really built up an "attitude"

against

"the golfer", but after thinking about it - I think he did a remarkable job. He certainly had more pressure put on him than the others. This last show I was actually rooting for him to go the distance.

Now I don't know who to cheer for..... The show needs more "hot" girl shooters.....

Also, a big sign at the entrance, that says: LEAVE EGOS HERE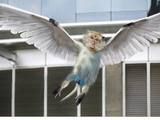 Active Poster
Posts: 99
Joined: Wed 27 May, 2009 1:51 pm
Military: yes
Carry Permit: yes
Favorite Firearm: M-28 Davy Crockett
Location: Texas
Perhaps its just me, but I enjoy the practice sessions more than the silly voting and overly-dramatic elimination challenges. I hear what you're saying about the egos though, Shadow. At this point, it would be much more entertaining if they just locked them in a compound and had a true "elimination challenge". Hey, "Ahnauld" is even available again to reprise his role.

The one thing that I do appreciate about these shows is that it helps the masses to see a different side to firearms. Instead of being mystical props with ethereal qualities from a Hollywood movie, they get an appreciation that they are simply tools for a specific purpose (and sometimes even simple shots miss).

FG
Yup, I liked the Barrett 1K shot too- but that 1 shot dude definitely has an ego! I agree with Shadow, needs a sign that tells them to leave the egos outside. I usually record it and we watch it so can fast forward thru the BS bad mouthing of the other shooters. I understand the reality show type background, but jeez-sometimes they sound like grade school kids they way they badmouth each other.
And why didn't the other shooters notice that all the rounds were hitting left of the target with that crosswind? You'd think they would have started out holding more to the right since most of them were hitting left at first. Oh, well.
This time around though,we were happy to see all the weapons we're familiar with-
Forgot to add- too bad the girls were not good enough to stay in- last season we were rooting for that woman who had to leave cause of her dad being so ill- she should come back again!
It was a leupold. I wasn't all that impressed with Mr. AF "snipers" one shot one kill. Here's why, he went after several shooters so he knew what dope he needed and he had it memorized because of his schooling/employment of the weapon system down range and the weapon was already sighted in apparently as almost ever shooter hit center but left due to the wind. If he had gone first and hit it in one shot I would have been impressed. This challenge played right into his hands for sure. All and all I enjoyed this episode best because of the Barrett
Member
Posts: 100
Joined: Mon 20 Apr, 2009 4:21 pm
NRA Member: yes
Military: yes
Location: Florida
I'm sure that the production staff "coach" the participants to generate the drama. If not, on behalf of the rest of the "prior service" military community, I apologize for their "childish" behavior. My opinion is that you really have to love Brian (Gunny) Zins for his problem solving abilities. He accurately determined that firing "spotter" rounds was quicker than a bunch of "scientific analysis" (aka modern POI computation). On the purely practical side, how fast does anyone think that sound travels? At sea level it is 1126 fps under "standard" conditions. Given that 3,000 feet divided by the 1126 equals 2.664 seconds, that is more than enough time to observe the impact and launch the second shot before the sound of the first shot gets to the target. As most humans reaction time to a perceived deadly threat can be 3-5 seconds the "sniper" has time to put the cross hairs on the POI and observe where the target is on the reticle then "hold" for follow up shot/shots. At extreme range, this technique is much faster than dialing in the adjustment. Targets generally present themselves for "limited" periods of time (just like the elimination event on the show).
To err is human, to fail to learn from the mistake is stupid.
It would have been much more realistic if the show wouldn't have had the elevation pre-set for them. It was obvious that all they had to do was figure out windage. There should have been a penalty of 10 seconds for each additional round fired, then it would have been a "marksmanship" challenge and not just an "artillery" challenge. 30" target, 15 rounds and 5 minutes to hit...my mom could make that shot, although the one guy didn't get a single hit in the 5 minutes?????

My gut feeling is the producers knew that they were loosing the current bad guy (jay) and are editing it to make george (sniper) look like the new bad guy just to keep people watching.
---
Return to "Announcements from Barrett"
Who is online
Users browsing this forum: No registered users and 4 guests